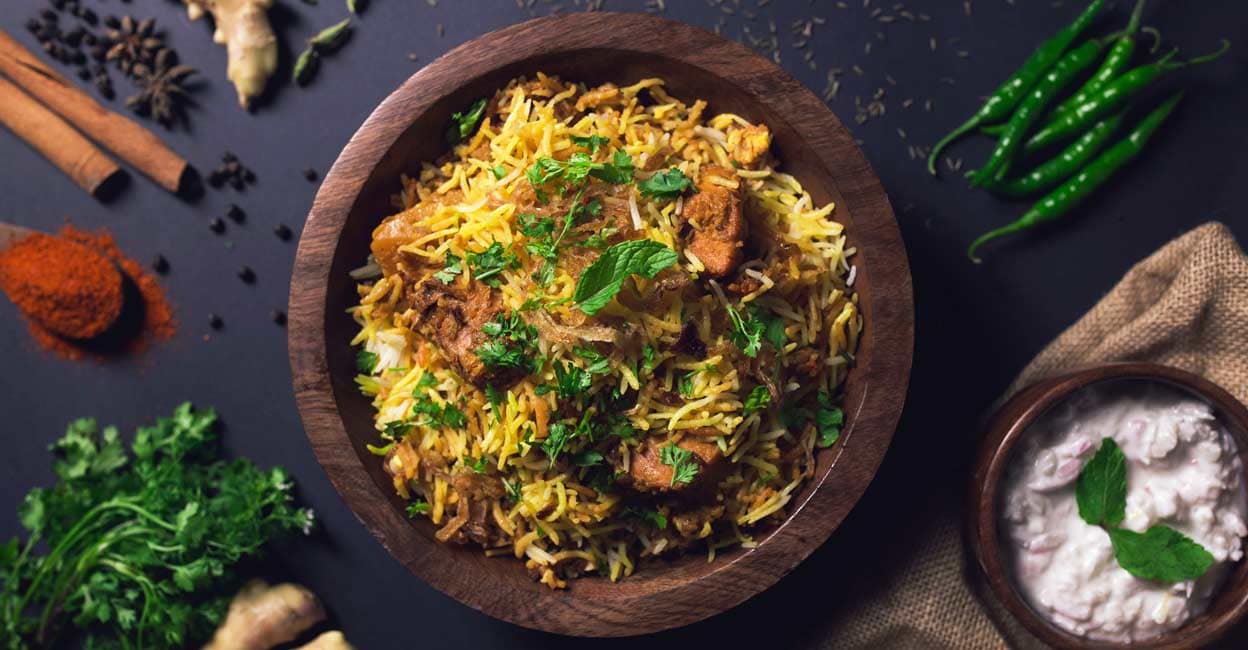 From Kolkata to Kerala, some lip-smacking biriyani stories | Food
Is there a dish that satisfies our cravings while tantalizing the taste buds? Food delivery apps, which digitally record our eating habits and preferences, have found an answer: biriyani.
The applications did not arrive at this delicacy by chance. Biriyani was the most ordered dish this New Year's Eve in India. Kerala also claims the lion's share of biriyani foodies among the total number in India. So why do Keralites love biriyani so much?
A delicacy that can be easily savored and available in delicious varieties, biriyani is equally enjoyed by vegetarians and non-vegetarians alike. Tasty and succulent, each country's biriyani offers a different dining experience.
Connoisseurs and gourmet chefs, who have cooked up a plethora of biriyanis, share amazing stories about the delicacy.
"The most wanted dish for all occasions"
Popular chef Suresh Pillai says the very term biriyani evokes the flavors and scents of this unique dish. "Biriyani is like a celebratory dish for Keralites. Whatever the festive occasion, biriyani is the sought-after delicacy. This delicacy, prepared by cooking tender meat with quality rice, topped with cashew nuts and raisins fried in ghee, will appeal to any food lover.
"Although the dish has its origins in Persia, biriyani or cooked meat with rice would be the first choice for most people across the world at all times," he explained.
"There is no exact recipe for making the perfect biriyani. You can prepare it by adding ghee and your favorite masala. All other dishes have specific amounts of ingredients. But for biriyani, the ingredients chosen by whoever prepares it would go into the pot. And this is another feature that adds to the characteristic flavor of biriyani," the chef pointed out.
"Any mention of biriyani evokes memories of rice being cooked in a large vessel and the aroma of spices filling the air. There are different methods of cooking meat – Malabar style, Thalassery style, etc. Meat can be baked or fried in different ways. All of this would be based on the preference of people from different regions or communities," he added.
"If you were to visit Kolkata, you will find a certain biriyani to which potatoes have been added with the meat. Bohri biriyani from Mumbai is also very popular. But the most popular variety is Hyderabadi biriyani, which is followed by biriyani There is also a less spicy but no less tasty version of biriyani which has saffron added to basmati rice," said Suresh Pillai.
"With us in Kerala, you will find biriyani prepared with Kaima rice, or Jeerakasala rice in Malabar or Thalassery. My favorite biriyani is the mutton biriyani, made with Kaima rice at Thalassery. It's the most delicious.
"I had biriyani from different countries. Each biriyani offers a unique taste to this land. Jeff biryani, Thalappakatti biriyani, Palakkadan Rawther biriyani… for each of them, a particular type of masala and spices give that distinctive flavor to the biriyani. This flavor is achieved by cooking garam masala, meat, and rice together in one pan. Although I had to choose based on the taste of the rice that goes into the biriyani, my favorite is the Thalassery biriyani made with Jeerakasala rice," vouches the famous Keralite chef.
'An early morning biriyani'
Food vlogger Mrinal Das Vengalat lists three reasons why biriyani is such a popular dish.
"First, there's this desire to eat something that we don't routinely have at home. Second, you get both rice and meat on a plate, which is a full meal. You can get a chicken biriyani for Rs 120-140. But you won't get a special lunch and fries for even Rs 140. And thirdly, biriyani has a glam quotient attached to it. Biriyani has star status among the poor and even the rich. There are a hundred varieties of biriyanis at the restaurant, compared to what you prepare at home," he explained.
"I will tell you another story about biriyani. It is about this Nizam from Hyderabad, who was so rich that he used a diamond as a paperweight. One morning, Nizam didn't find the biriyani very tasty. And the cook replied – 'Janaab, it's because saffron is not available. This must be bought in Kashmir. It's hard to bring it from there. Nizam immediately ordered his commander to wage war and capture Kashmir. There are several ridiculous stories about kings love for biriyani," the vlogger shared.
"Ambur mutton biriyani is offered at "Star Biriyani", which has the largest number of outlets in Tamil Nadu. Ambur biriyani is simply breathtaking. Only mutton biriyani is available there. Chicken or beef biriyani is not available. Either you will get a mutton biriyani or a fish biriyani, prepared with the 'avoli' fish. They will not entertain any other biriyani. Whether the outlet is in Kolkata or Hyderabad, star biriyani is always synonymous with mutton biriyani," he pointed out.
"But about 95% of restaurants in Kerala sell chicken biriyani. There are mainly two reasons for this – many people especially women and children do not eat mutton in Kerala. Another reason is that it would be twice the price of a chicken biriyani. In Bangalore and Chennai, some shops serve biriyani even at 3, 4 and 5 in the morning. And there is a huge rush for it.
"Once during a trip, I went to a store in Bangalore that serves biriyani at 6am. I went to the store at 5:30. Even so early there was a long line. I was so thrilled after having this biriyani at 6am. But there was a downside. After returning to the hotel room, I fell asleep and didn't wake up until 6 p.m. Singer-actor-director Vineeth Sreenivasan first told me about biriyani early in the morning in Chennai. People show up in very expensive cars to have this biriyani," he added.
Biriyani on film sets
Palace Kitchen had prepared the biriyani for actor Dulquer Salmaan's wedding. Even at his filming locations, Dulquer's father and actor, Mammootty, occasionally treats everyone to sumptuous biriyani. On all these occasions, the quality of the food is of paramount importance, stresses Palace Kitchen partner Abdul. Mammootty insists that the food served to others should be of the same quality as the food offered to him. We have been doing this for 10 years, added Abdul.
Among the various dishes served at the hotel, biriyani ranks first. But now the trend has changed, Abdul said.
Elaborating on the changing trend, Abdul says, "People like all kinds of foods. In Malabar, the biriyani made from Kaima rice is a favorite among all. Whether it's mutton, chicken, shrimp or fish, everyone wants biriyani. Also, most people are fond of seafood and give us good feedback. But more people are asking for mutton biriyani. Then the lagoon chicken biriyani is also a favorite.
"When the lockdown was imposed, the number of attendees at the festivities dwindled. But once the lockdown relaxations were announced, people started trying different varieties of food. At events with 100-150 attendees, we serve a variety of fusion dishes," he explained.
"Now people have started to take more interest in food. Since the Covid pandemic hit, many vloggers are actively posting food posts on social media. This has prompted more people to try new flavors. It has also established a trend of serving a variety of dishes for parties and weddings. Also, as the number of people at events has decreased, the practice now is to serve a good variety of dishes to those who attend. attend," Abdul added.
"The lockdown period has also seen a lot of people raiding their kitchens. Before the pandemic, people who lived in apartments generally preferred to eat out. But during confinement, they found time to try their hand at cooking. There has been a real change in the food sector after the Covid pandemic," Abdul explained.
side dish
Vlogger Mrinal shares an interesting anecdote about biriyani. In the Malayalam film 'Neelakasham Pachakadal Chuvanna Bhoomi', Dulquer Salmaan and Sunny Wayne are adventure cyclists. In a sequence from the film, they eat biriyani in a store in Kolkata.
"I was curious about it and wanted to know if the place had been set up just for the filming of the film. After doing some research, I learned that it was in fact a store of very famous biriyani.
"I went to this same store and ordered biriyani. Normally I have mutton or chicken biriyani. The dish will have rice with two pieces of meat. Here too, there were two pieces and the rice. But one piece turned out to be a potato. But as a Keralite, I felt I had been duped. But you probably won't believe me. The potato turned out to be much tastier than the biriyani meat. Later I learned that this is how they serve biriyani in Kolkata," he explained.